1200 SPARTAN DRIVE
CONNERSVILLE, IN 47331
765-827-8400
877-420-8400 (INDIANA ONLY)
· Bring services to the child rather than bringing the child to the services;
· Reduce bus transportation time;
· Reduce parent transportation time;
· Target monies generated by the December 1 count to the students generating these monies;
· Reduce bureaucracy at all levels;
· The least restrictive environment is advanced with regular classrooms, neighborhood schools, and local school corporations;
· Control and ownership is assigned to the School Board of legal settlement;
· Decision making is decentralized and involves the stakeholders;
· Socially inclusive environments will be the norm;
· Differentiated instruction within the regular classrooms is expected;
· Trusting adult relationships will permeate the culture;
· Indiana Academic Standards are the curricula for all children;
· All children will learn-no exceptions;
· Schools celebrate and welcome diversity;
· Labels will become "a thing of the past";
· A continuum of services is available for each child as defined by needs;
· Exceptional learners shall graduate, attend college, and participate in the work force at rates similar to their peers;
· Laws shall be used to protect the rights of exceptional learners, and shall be followed in spirit;
· Educators will receive intensive training throughout their careers;
· Local schools shall be accountable for achievement results and continuous improvements;
· Special education is a service to deliver, not a place to go;
· Certified and classified employees serve all children;
· Increased parent involvement and satisfaction;
· General intervention teams reduce unnecessary referrals and increase student success in general education;
· And inclusion, rather than exclusion, is the word spoken most frequently and believed as best in our hearts.
Indiana Department of Education Division of Exceptional Learners
Room 229, State House
Indianapolis, IN 46204
Telephone: 317-232-0570
Fax: 317-232-0589
http://www.doe.in.gov/specialed
Indiana Institute on Disability and Community
809 North Michigan
South Bend, IN 46601-1036
Telephone: 574-234-7101
Fax: 574-234-7279
Toll-free 1-800-332-4433
7275 Shadeland Avenue., Suite 1
Indianapolis, IN 46250
Telephone: 317-257-8683
Fax: 317-251-7488
Toll-free: 1-800-964-4746 (Voice)

Indiana Protection and Advocacy
4701 North Keystone Avenue, Suite 222
Indianapolis, IN 46205
Telephone: 317-772-5555
Fax: 317-722-5564
Toll-free: 1-800-622-4845 (Voice)
Toll-free: 1-800-838-1131 (TTY)
Each corporation served by Centerville-Fayette Special Services (CFSS) operates a comprehensive special education program for students, ages three (3) through twenty-two (22), with disabilities. Special education services operate in accordance with Indiana Article 7, which governs the provision of special education.
It is each corporation's goal to serve all students in their neighborhood schools. For students identified with mild disabilities services are available in every building. Consulting services are also provided at the home school for students whose primary disabilities are autism spectrum disorder, orthopedic impairment, visual impairment, or mild hearing impairment. Preschool or elementary students with more intense needs, e.g., severe cognitive disabilities, may be assigned to a school other than their home schools to access more intense services. Finally, some students who have significant vision or hearing disabilities may attend school in Indianapolis at the Indiana School for the Deaf or the Indiana School for the Blind. Transportation services are provided by the school corporation should a placement other than the student's home school be necessary.
Eligibility for special education is determined through an evaluation process. An evaluation may be initiated by the child's school or the child's parent/guardian. The evaluation may only occur after the parent/guardian has provided permission. Once permission has been received, the student will be evaluated by a multidisciplinary team which is assembled based on the suspected disability. Members of this team typically include a school psychologist, general education teacher, and special education teacher. Often speech pathologists, occupational and/or physical therapists, behavior and/or autism consultants also participate. The process of this evaluation is to gather as much information about the student to determine whether or not he/she meets the guidelines as a student with a disability under Indiana Article 7, and to identify student strengths and areas of need. The actual determination of eligibility is made by the case conference committee which is comprised of the parent and members of the multidisciplinary team.
If the student is identified as a student with a disability and found to be eligible for special education services, the case conference committee develops the individualized education plan (IEP). This plan is based on identified student strengths and addresses areas of need. At least once a year, the case conference committee is reconvened to review the plan and make necessary adjustments.
If you have concerns that your child may be eligible for special education services, contact the principal of the school your child attends to discuss whether or not a referral would be appropriate.
Nonpublic and Home School Services
Centerville-Abington and Fayette County (CFSS) administration conducts child find activities annually for students age three (3) through twenty-two (22) with disabilities who may not be attending school.
School corporations must provide all identified and appropriate special education services needed by any student with a disability attending a public school. However, school corporations can limit the amount of services that will be provided for students who attend nonpublic or home schools
Any student who attends a nonpublic school or is home schooled has the right to an educational evaluation. If the student is found eligible for special education services, the case conference committee (CCC) will determine the services that the child will receive. The amount of services may be less for a student who attends a nonpublic or home school than they would for a student attending a public school within the district.
For more information or to make a referral, contact the principal of the school your child attends or Meagan Gillman, Director of Special Services, 765-827-8400.
Preschool Special Education
Early intervention can make a difference. Special education services are available for children ages three (3) through five (5) with a variety of special needs. When eligible, children may receive services in a community preschool or a preschool within the public school setting.
How do you know if your child might benefit from early intervention services? There are general ages at which children should be able to do certain things. The following may help you to determine if your child could benefit from a referral for early intervention services: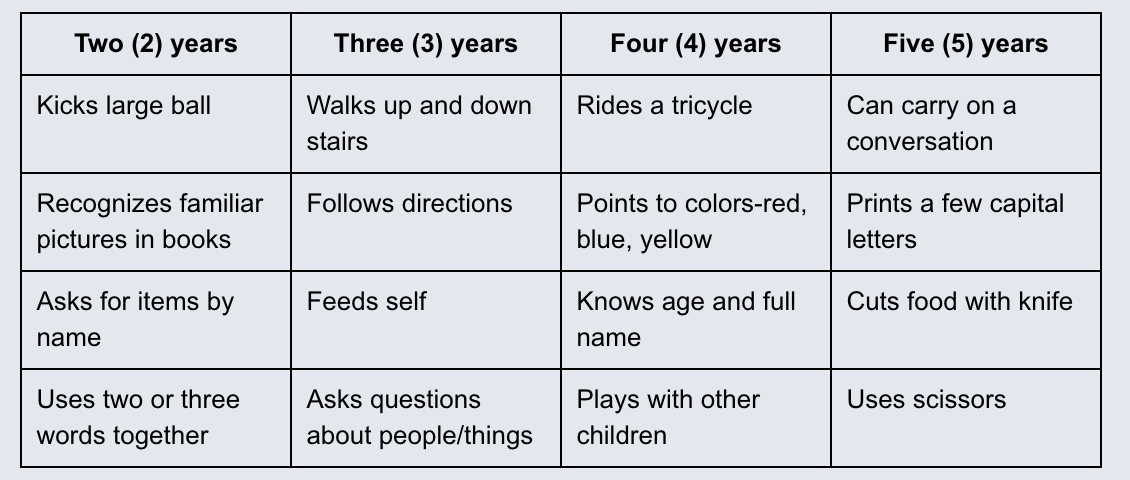 A team of professionals that may include a school psychologist, a speech and language pathologist, an occupational and/or physical therapist, and other specialists as needed will work together using a variety of instruments to determine your child's skills and abilities in all developmental areas: gross and fine motor, social, cognitive, and language. You will meet with the team at the case conference committee (CCC) meeting to review the information and to determine if your child is eligible for special services. If eligible, the individualized education plan (IEP) will be written. The kind of services and the place the services will be delivered will be determined by the case conference committee.
If you have any questions about early childhood intervention services, contact one of the following staff members.
Centerville-Abington-Mike Moore at 765-855-5132
Fayette County-Meagan Gillman at 765-827-8400 or 1-877-420-8400